Description

*** FREE SHIPPING ***
(1st class mail to US Buyers Only)
Item Specifics: You will receive a single (1), OEM quality Audi keyless entry remote flip key fob.
This item is in NEW condition. No marks or scratches. It is unlocked, never used, and comes with a brand-new -UNCUT- security key. Ready for programming!
Does not come with programming instructions. The item pictured is the exact representation of what you will be receiving.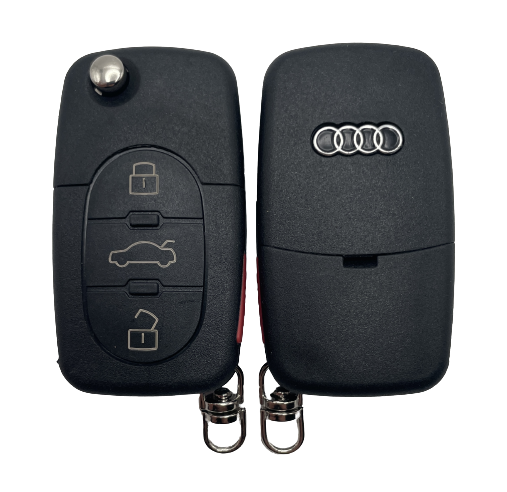 Details:
Condition: Brand New

FCC ID: MYT8Z0837231
PART #: 8Z0 837 231 P / 231 E, 4D0837231E / 231P
IC: 4427A-8Z0837231
Chip: ID48 CRYPT
Frequency: 315 Mhz
Battery: CR2032
Emergency Key Included: HU66
Buttons: Lock, Unlock, Trunk, Panic
There are several options for the remote portion for ALL AUDI FLIP KEYS.
THIS REMOTE ENDS IN 231E / 231P.
!!MAKE SURE YOU MATCH THE PART NR WITH YOUR ORIGINAL REMOTE!! THIS FOB COMES IN VARIOUS DIFFERENT PART NUMBERS.!!
Compatible with the following:
1997 – 2005 Audi A4
1997 – 2005 Audi A4 Quattro
2005 – 2005 Audi A5 Quattro
1997 – 2005 Audi A6
1997 – 2005 Audi A6 Quattro
1997 – 2005 Audi A8
1997 – 2005 Audi A8 Quattro
2000 – 2005 Audi TT
2000 – 2005 Audi TT Quattro
1997 – 1998 Audi Cabriolet
2000 – 2005 Audi S4
2002 – 2003 Audi S6
2002 – 2003 Audi S8
2000 – 2005 Audi Allroad Quattro
2003 – 2003 Audi RS6
IMPORTANT NOTE:
Please verify if the original remote for the vehicle uses the same part nr and FCC ID as the ones listed above.
The key fob will need to be cut and programmed by a professional LOCKSMITH.
Make sure your current key/remote matches the one above(blade, chip, style, and button configuration) or it will not work for your vehicle!
Remote Keyfob will Include a Battery
PLEASE READ
PROGRAMMING IS THE RESPONSIBILITY OF THE PURCHASER.
MOST MODELS CAN BE SELF-PROGRAMMED WITH ONE OR TWO ALREADY WORKING REMOTES.
THESE REMOTES ARE UNLOCKED AND PROGRAMMABLE.
DEALER WILL NOT PROGRAM THE REMOTE BECAUSE THEY USE DIFFERENT PROGRAMMING TOOLS!
PLEASE FIND A LOCKSMITH WHO WILL PROGRAM THE REMOTE BEFORE PURCHASING!!!
Contact us
We can be contacted at any time through eBay messages if you have any questions, comments or product requests. We will respond to you within 24 hours and do our best to help you out! We encourage our customers to contact us with any questions or concerns! We'd like to be sure you are completely satisfied with your purchase.
Payment

Payments managed by eBay

Require immediate payment when buyer uses Buy It Now

Shipping

ALL ITEMS ARE SHIPPED WITHIN 1 BUSINESS DAY OF RECEIPT OF PAYMENT.

ITEMS WILL BE SHIPPED USPS FIRST CLASS MAIL WITH DELIVERY CONFIRMATION.

!!! IF YOU PURCHASE BEFORE 3 EST O'CLOCK WE WILL SHIP THE SAME DAY!!!!

Warranty

ALL TRANSMITTERS CARRY A STANDARD 30-DAY WARRANTY.

WARRANTY WILL COME IN THE FORM OF A REFUND OR REPLACEMENT.