Description
BMW Key programming Service by CAS
Product
Start with disconnecting your battery terminal. Carefully remove and unplug your CAS4 module which is located under the driver's side(steering column). Ship the module to us along with a working key.
Shipping
When we get your package, we will program a new key(provided by us) and ship it back the same day!
Contact
If you have any questions at all regarding this whole process please feel free to message us.
DW Services LLC provides nationwide BMW Key Programming through our mail-in service, creating a safe and affordable way for BMW owners to duplicate a key or replace their car keys if they have lost all keys or if the keys have been damaged.
Simply remove your CAS4 Module and ship it to our facility.

We will program the new key(s) and ship it back out to you.

Re-install your CAS4, and your new key(s) will be ready to use for all button functions and starting your car!
If you are requesting the service and have no current working keys (all keys lost or all keys damaged) you will also need to send us your DME computer and we will need to charge an additional $70
Vehicles Covered:
BMW 5 Series 2010-2018
BMW 6 Series 2010-2018
BMW 7 Series 2009-2015
BMW X3 Series 2011-2018
BMW X4 Series 2014-2018
**THIS LIST IS FOR REFERENCE ONLY** PLEASE MAKE SURE YOU HAVE THE RIGHT MODULE.
If you do in fact have a different module please contact us and send us a picture.
Note: If your original key does not look like the picture please contact us to confirm that this is the correct service for your vehicle
Key Details:
Replaces FCC YGOHUF5662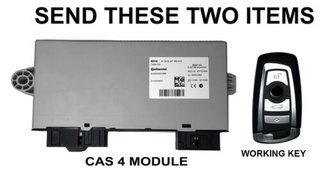 PLEASE READ CAREFULLY!!
Shipping: It will be the Buyers Responsibility to ship the items to the address given when you purchase this service. We will take care of the return shipping to the address that we will have on file through eBay unless provided otherwise. (via USPS or UPS)
Package Includes: We will ship back the original CAS, the original key, and a brand new working key.
DISCLAIMER –
WE DO NOT TAKE RESPONSIBILITY FOR LOST AND/OR DAMAGED GOODS (I.E DURING MAIL TRANSIT). IF PRODUCTS ARE SHIPPED OUT DAMAGED IT IS NOT OUR RESPONSIBILITY TO REPAIR OR REPLACE THE MODULES OR ANY OTHER ITEMS RECEIVED IN THE PACKAGE. AUTOMOBILES HAVE MANY COMPLEX SYSTEMS, AND FOR THAT REASON A MISDIAGNOSIS ON YOUR (CUSTOMER) PART DOES NOT WARRANT A REFUND OF PAYMENT IF A SERVICE DOES NOT FIX YOUR ISSUE WITH YOUR AUTOMOBILE. BY SIGNING THIS DOCUMENT YOU AGREE TO EVERYTHING MENTIONED, AND THAT WE ARE NOT RESPONSIBLE FOR ANY ISSUES YOU MAY HAVE BEFORE OR AFTER WE ARE DONE WITH OUR SERVICE.
Free eBay listing template designed by © dewiso.com.